Comic for Monday, July 25
on
July 25, 2016
at
5:41 am
Whew, this one came in close to the line. Decided to drive around all weekend and it played havoc on the production schedule. Car goes back to the shop tomorrow though so it's best to get it out of the way.
I think Tyler is concerned by the amount of paperwork it would take to have to deputize an Avon blackops agent. That'd be a real headache.
We've seen a glimpse of Marc and Mione's talents, beyond glowering. I was beginning to think Tyler just kept them around for playing bad cop/good cop. Never sure which was which though.
---
Something pretty cool happened, I got my first piece of guest art! azureXtwilight, author of the comic Re:Set drew Naomi (click for full size):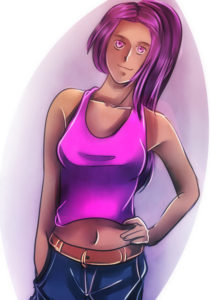 Known for their gorgeous soft shaded vibrant coloring, this piece is certainly no exception and I couldn't be more honored to get it. This marks the first piece of fan art we've gotten. I'll have to put up a gallery or something.
---
Really appreciate everyone that's been leaving comments with feedback, support, or… er… comments.