Comic for Monday, December 25th
on
December 24, 2017
at
10:05 pm
Posting a little earlier as I'll be preoccupied with Holiday stuff.
And of course, poll winner for the Very Important Santa Hat Poll (click for full size). It's just a bit of a quick doodle as the Holidays sort of crept up on my and have busier than expected between work still being busy despite the holiday and everyone else not being busy so thinking it'd be a good time to schedule things.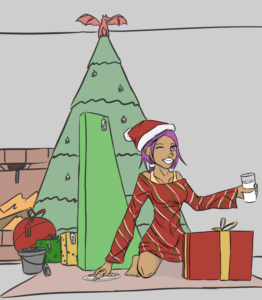 Thursday's comic should be ontime as we march into the New Year, but probably won't be up early on Patreon (or maybe just by like a day… 😉 )
Hope you are all spending your Holiday Season with Festive Cheer and what not! Merry Christmas or your functional gift giving equivalent!